Team trophies
What are they? How can you get them? Which one(s) should you get?


Introduction
Team trophies are rewards you can get for your team to get various bonuses for all the members of the team. If you want to get your team to the top and compete for the most glorious spots in different weekly tournaments, team trophies will provide you significant advantages over other teams. In general, the more trophies you have, the higher you climb in many of the ranking lists. The higher your ranking is, the better the rewards will be.
Acquiring team trophies
A newborn team has 1 team trophy slot unlocked by default. Teams can unlock one more trophy slot for every 25% they have expanded, capped at 100% expansion or 5 unlocked trophy slots in total. Whenever your team has empty trophy slots, they can be filled with team trophies.

a team trophy slot row with 1 reserved trophy slot, 1 empty trophy slot and 3 locked trophy slots
There are two ways to acquire new trophies for your team:
Winning a fight (either an attack or a defence) against another team that has at least 1 team trophy in possession before the fight takes place
Winning a fight (only an attack) against any team whilst there are less than 50 trophies in use amongst all of the teams in your server. This essentially brings a new trophy to the server.
NOTE: A new trophy brought to the server is drawn at random from a pool of all trophies that are currently not in use on the server.
On each server, there can be a maximum amount of 50 team trophies altogether. When the maximum amount has been reached, the trophy type distribution is
ALWAYS
as follows:
15 Motivation unit trophies
15 Energy trophies
10 Duel & League trophies
10 Courage trophies
Losing team trophies
Just like your team can acquire trophies, it can also lose them. There are two ways for this to happen:
Losing a fight (either an attack or a defence) against any team that has at least 1 empty team trophy slot before the fight takes place
Leader or an advisor removes a trophy of their choice for a cost of 40 team donuts. This action has a 7-day cooldown.
NOTE: A removed trophy is considered to be not in use and can thus be won by any team as described in the earlier section.
Benefits and penalties
There are 4 different team trophy types in Hero Zero. The trophies come in various shapes and colours, but have their benefits and penalties assigned after one of the four trophy types:
1. Motivation unit trophies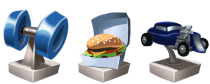 +5 Motivation Unit
-15% skill points in team fights
2. Energy trophies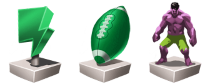 +20 Energy
-10% skill points in team fights
3. Duel & League trophies

+25% reward for duels and league fights
-12% skill points in team fights
4. Courage trophies

+20 Courage for Duels
-2 Courage consumed per Duel
+2 max. possible League Fights per day
-7% skill points in team fights
High and low value trophies
With different pros and cons for each trophy, team-specific preferences are always valid. However, by taking a look at teams on servers across the globe, some notations can be made.
Most of the motivation unit trophies and energy trophies can be found to be in possession of top ranked teams.
Top ranked teams generally don't have a mix of multiple different trophy types. Having 5 motivation unit trophies or 5 energy trophies is not uncommon.
Duel & League trophies as well as courage trophies are usually in possession of lower ranked teams and are often the trophy type found from teams with just one unlocked trophy slot.
This doesn't indefinitely prove that some trophies are better than others. However, it does state quite clearly that trophy types are strongly divided into more and less desired ones, with motivation unit and energy trophies being on the more desired class, whilst duel & league trophies as well as courage trophies are sought for when better tiers are not available.
Now get out there and put those trophies into a good use!
Mosaic of all visuals: